Organic farm and herb garden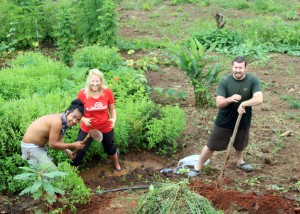 We are proud to claim that we only use environmentally friendly farming techniques at our organic farm. We are always happy to share our knowledge with our guests.
Aiming to be as self sustainable a possible, we grow our vegetables, fruit and herbs in our herb and vegetable gardens and are constantly expanding. We only use organic farming methods and employ traditional farming techniques, using local materials and resources.
During cooking lessons guests will learn about traditional ingredients used in northern Thai recipes and enjoy the wide variety of local cuisine. Participation is always welcome! We are more than happy to cater to all dietary requirements.
Please visit Our Recipes Page for some northern Thai recipes to try at home.